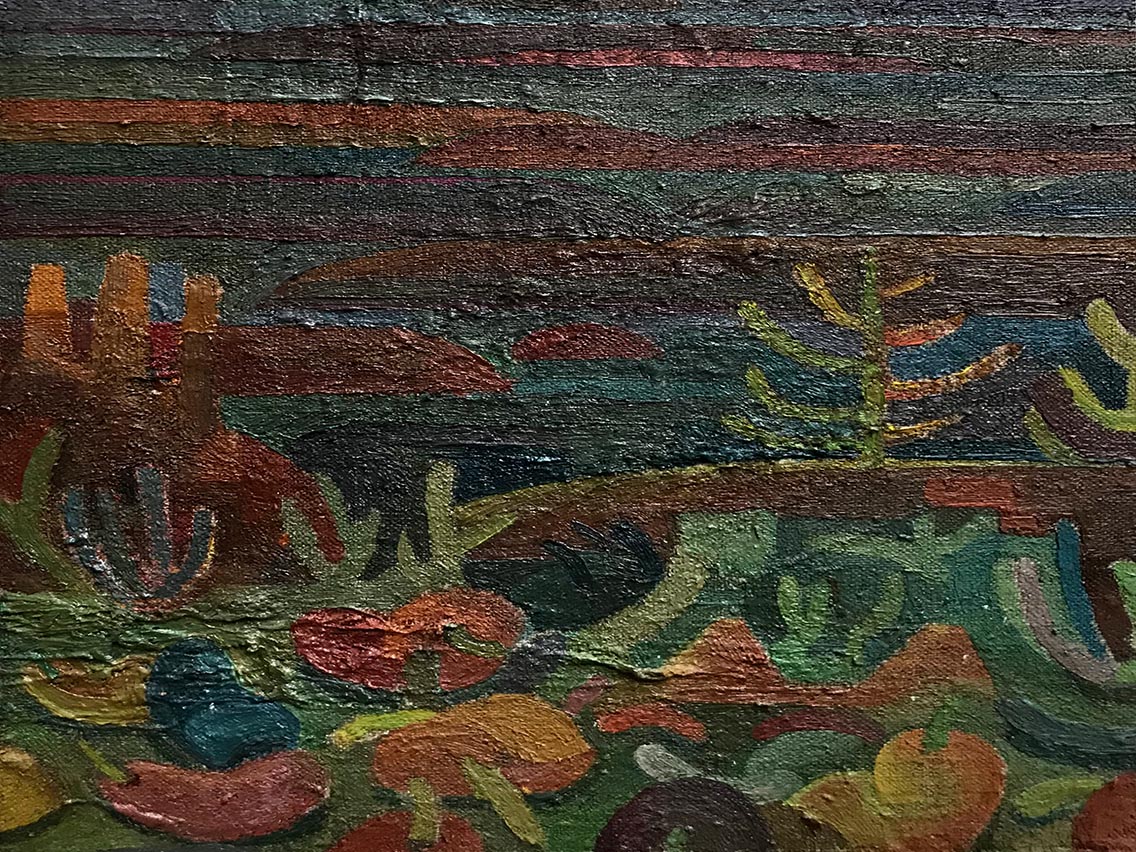 Ana milenkovic
The Difficult Path
14 March - 25 April 2019
Opening Party: Thursday 14 March 6 - 8pm
"I hope that my painting has the impact of giving someone, as it did me, the feeling of his own totality, of his own separateness, of his own individuality"
Barnett Newman
School Gallery is pleased to present The Difficult Path, an exhibition of new paintings by Ana Milenkovic. Milenkovic's paintings are primarily based on literary characters created by Dostoyevsky, Tolstoy and Hesse. The title of this show is taken from a 1917 short story of the same title by Nobel Prize-Winning author Hermann Hesse. Milenkovic has found affinity with this particular piece of writing, a work full of references to the author's own experiences, his struggles and poetic avowals.
Milenkovic combines both contemporary and traditional processes within her practice. She explains: "The visual starting points of my paintings are unrelated images found across the web. I use these for digital collages and painting sketches. Transitions from random to meaningful, and from digital to physical make me think about the lack of permanence in contemporary art; hence, the strongest impact on my painting language comes from formalism and monumentality of Assyrian reliefs and Egyptian sculpture."
The surfaces of these new paintings are multi-layered, using various fabrics that are collaged with extensive overpainting. The paintings are a journey themselves. They have no defined path, one mark creates the next, working from the top down intuitively. With these new works, Milenkovic is allowing her paintings to influence their own creation, not just as a static form, but as a living breathing thing with the power to become an active part in its own inception.
Ana Milenkovic (b. 1988, Belgrade, Serbia) graduated from Wimbledon College of Art, University of the Arts London, and Faculty of Fine Art, University of Arts Belgrade, Serbia. She was winner of the Griffin Art Prize 2016, winner of the UAL/Clifford Chance Sculpture Award 2015, and Award for Creative Innovation from the Milos Bajic Fund. In 2012 Ana was awarded the KulturKontakt Austria Scholarship for the Summer International Academy of Fine Arts in Salzburg, Austria, as well as the Dean's Scholarship for Traunkirchen Summer Academy of Fine Arts, Austria.
Solo shows include: Ana Milenkovic, Aqbar, London 2018, The Gods Must Be Crazy, Gallery Novembar, Belgrade, Serbia 2018, Selected Paintings, PayneShurvell, London 2016 and UAL/Clifford Chance Sculpture Award, Clifford Chance Headquarters, London 2015.
Group Exhibitions include: A Room of One's Own, Koppel Projects, London 2019, Innocence, Super Dutchess, New York 2018, Air4, Ravnikar Space, Ljubljana, Slovenia 2018, Night Realms, Arusha Gallery, Edinburgh 2018, The Arca Project, PayneShurvell, London 2018, Art, Women And The Evolution, The Bloomsbury, London 2018, and Griffin Art Prize Shortlist Exhibition, Griffin Art Gallery, London 2016.